To stop comments on selected posts (or pages) in bulk:
If you dont have many posts this is the easiest method. Go to the All Posts section. Select all the posts for which you wish to delete comments. Then click on Bulk Actions > Edit > Apply. A new option Bulk Edit will open up where you can choose the Do Not Allow option for comments.
You'll be restricted to selecting from 20 posts at a time because that's the default setting for display of posts in the All Posts screen. To display a greater number on each screen, make changes under Screen Options.
To stop comments on all future posts (and pages):
Uncheck the option "allow people to post comments on articles". You can also disable pingbacks and trackbacks here. This will stop comments and pings entirely on all future posts on your site. (Pages are disabled by default).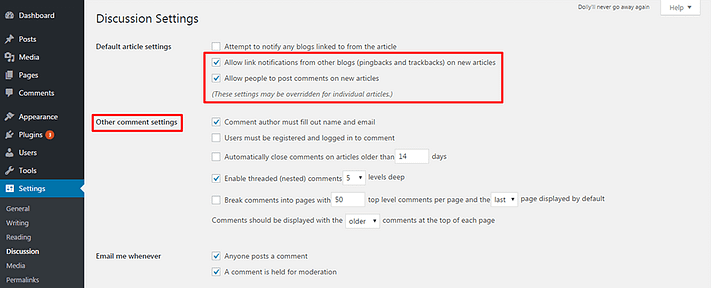 Plugin solutions for disabling comments
Rather than doing it manually , you can also use a plugins to make the job easier and give you a more "managed" control over comments, out of several plugins available you can use the below WordPress plugin which is much easier to use.
Disable Comments
Disable Comments
Author(s): Samir Shah 1+M Downloads
Current Version: 1.9.0
Last Updated: March 2, 2019
>>> Click here to visit Disable-comments WP 5.0+Requires
The Disable Comments plugin can stop comments over the entire website and even over the entire network in multisite.
From the plugin's page:[…] allows administrators to globally disable comments on any post type (posts, pages, attachments, etc.) so that these settings cannot be overridden for individual posts. It also removes all comment-related fields from edit and quick-edit screens. […] Additionally, comment-related items can be removed from the Dashboard, Widgets, the Admin Menu and the Admin Bar.
Very neat plugin if you wish not to have any comments on your site at all. A kind of "set it and forget it" solution.